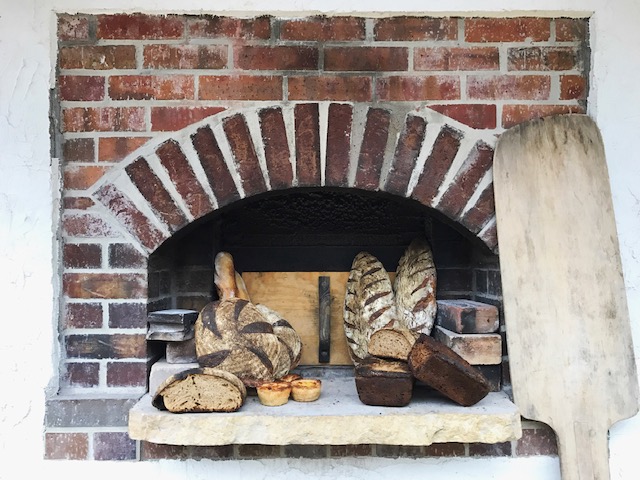 Spring 2019
Order by Monday, April 15. To pay via PayPal click on the links below. Or download the form below and pay by check.
Breakfast Breads
Craisins & Walnut Levain – a traditional French sourdough chockful of craisins and walnuts.
Oatmeal with Cinnamon and Raisins – same dough as the oatmeal (see below) with a touch of cinnamon and filled with raisins; great for morning toast.
Polenta Bread - cooked polenta is added to the dough to give it texture and sweetness.
Pain de Mie - a traditional white flour pan loaf enriched with milk, butter and honey.
Oatmeal - oats and whole wheat provide the flavor for this breakfast and sandwich bread.
Craisins & Walnut Levain (see above)
Organic Whole Grain Hearth Breads (freshly milled flour from BakersField in Minneapolis)
Sunflower Flaxseed Sourdough – toasted sunflower seeds and flaxseeds add to the texture and flavor of this whole wheat sourdough bread.
Country Wheat – a Farmers Market favorite; naturally leavened.
Five Grain Sourdough - chock full of of oats, rye, seeds, cornmeal and wheat.
100% Whole Grain – all whole grain Baker's Field flour, naturally leavened.
Country Wheat (see above)
Ciabatta - this light, flavorful Italian favorite uses high-extraction wheat flour
Heritage Grains*
Vollkornbrot – The classic of German rye bread. This version adds lots of whole wheat spelt, plus pepitas and sunflower seeds. Best enjoyed in thin slices.
Miche - the traditional market bread. A 3-pound loaf divided in half featuring Turkey Red flour.
Spelt Rye Levain - The nutty flavor of spelt wheat pairs well with the earthy character of rye in this whole grain levain (sourdough). Sprouted rye berries add nutrition and texture.
Heritage Honey Loaf – a pan loaf made with Turkey Red sifted flour and a touch of honey.
Five Grain Turkey Red – the hearty wheat sourdough with flax, sunflower, oats and rye.
Sesame Spelt - a tasty loaf pan made with whole spelt flour and toasted sesame seeds.
*Heritage grains are traditional wheat flours, such as Turkey Red, Spelt, and Emmer, which were grown in the early years in this country. They have rich flavor and some people find they are more easily digested.
Every Other Week Subscription
Smaller households can benefit from the "Every Other Week" subscription plan which includes three loaves over the 6-week period. Cost is $22.00.  I will contact you about your preferred bread group and weeks.
Pay by Check
To pay by check, click on the form below, print and send with money to: Companion Breads, 441 Juniper Street, Mahtomedi, MN 55115