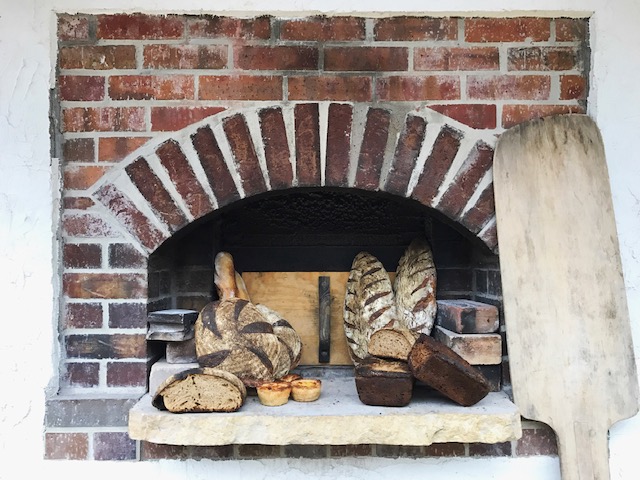 Spring 2021
Sorry, but everything is SOLD OUT for the Spring CSB
The next CSB begins April 8th and will run for 8 weeks. Choose from one of these three categories or if you need more good bread choose a couple of the categories. You can order online - click the "Add to Cart" button below for your desired selection(s). You will be directed to PayPal to pay and complete your order. Or you can order by mail. See "Pay by Check" below,
Orders are due by Thursday, April 1st, but order soon, quantities are limited.
Pick up is Thursday from 4 PM to 6 PM at 441 Juniper Street in Mahtomedi. There are also several options for late pick up. Pick up is outdoors and socially distanced.
This year we'll be baking with all organic flour, the bulk of it locally grown and freshly milled.
Breakfast Breads ($56)
Craisins & Walnut Levain – a traditional French sourdough chockful of craisins and walnuts.
Seeded Semolina - a full-flavored savory bread; the dough begins with semolina flour, cornmeal and millet, it's then rolled in poppy, sesame and fennel seeds just before baking.
Oatmeal with Cinnamon and Raisins – this bread is half whole grain with lots of raisins and a touch of cinnamon. Great for morning toast.
English Muffin Toasting Bread – similar to the interior crumb of a traditional English muffin, this bread is full of nooks and crannies, making it perfect for toasting, French toast, grilled cheese sandwiches, etc.

Golden Raisin Wheat, Baguettes and more…
Whole Grain Hearth Breads* ($56)
Country Wheat – a Farmers Market favorite; 100% high-extraction Minnesota flour, naturally leavened.
Spelt Oatmeal Flax Pan Loaf - a flavorful sourdough loaf made with whole spelt flour, plus cooked oats and flax seed.
Rustic Ciabatta - a classic Italian bread; this version with roasted walnuts.
Sunflower Flaxseed Sourdough - sunflower and flax seeds mixed in a whole wheat sourdough.

Yogurt Rye, Oatmeal Maple and more…
*Freshly milled organic flour from BakersField in Minneapolis
Heritage Grains* ($68)
Heritage Honey Loaf – a pan loaf made with Red Fife sifted flour and a touch of honey. Red Fife is an organic heritage red wheat which first came from Scotland to the US in 1842.
Einkorn Sourdough – humanity's first cultivated grain; this is a whole grain bread with a sweet and slightly nutty flavor.
Drunken Fig – a whole wheat sourdough bread enhanced with wine marinated figs and a touch of buckwheat flour.
Miche - the traditional market bread. A 3-pound loaf divided in half featuring Red Fife and Emmer flour.

Seeded Pan Bread, Turkey Red Sourdough and more…
*Heritage grains are traditional wheat flours, such as Red Fife, Spelt, Emmer, and Buckwheat which were grown in the early years in this country. They have rich flavor and some people find they are more easily digested. The higher subscription price is due to the higher cost of Heritage grains.
Every Other Week Subscription ($32)
Smaller households can benefit from the "Every Other Week" subscription plan which includes four loaves over the 8-week period.  I will contact you about your preferred weeks.